Brand Reinvention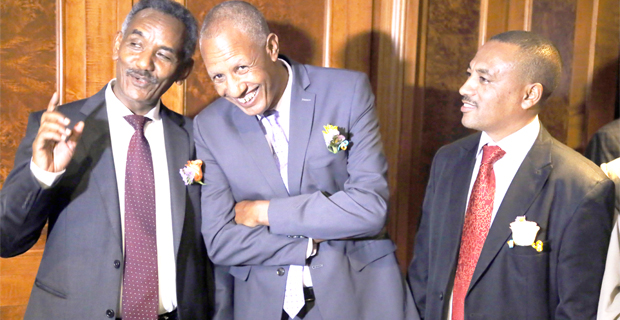 Last week, Wegagen, the second capitalised private bank in the country, replaced its twenty-year-old logo with a new one in a colourful ceremony that was held at the Sheraton Addis Hotel. Araya G. Egziabher (left), president of Wegagen Bank, Hailu Molla (centre), former board member of the Bank, and Teferi Zewdu, board chairperson of Wegagen, launched the new corporate logo.
The new logo mark, designed by Studionet – a local consultancy company specialised in brand development, communication strategies, marketing and advertisements – is a circular character in an orange colour representing Wegagen's initial letter "W" and the Ethiopic letter "ወ". It anchors the arc of aspiration that the Bank would like to achieve.  The brand is being rolled out across the Bank's service outlets and will be visible as of the inauguration day from signage through point-of-sale and other marketing communications, according to Teferi.
Established in 1997 with an initial capital of 30 million Br, Wegagen grossed an unaudited profit of 797 million Br during the just ended fiscal year, which is 50pc higher than the previous year. This makes the Bank the fourth highest profit earner in the country next to Awash, Dashen and Abyssinia banks.
Although the Executives of Wegagen refrained from disclosing the amount of money paid to redesign the logo, private banks such as Awash and Nib recently invested hundreds of thousands to get their new emblem  with the aim of attaining more recognition from their customers.
---
---
---
---
SHARE :

---