Disarmament Key to a Peaceful Society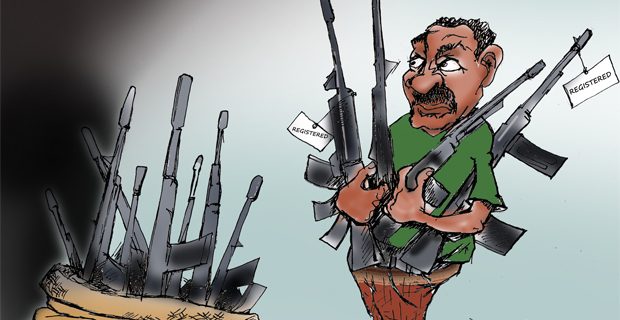 One of the most shocking manifestations of the recent demonstrations, which have erupted across some parts of the country, was the widespread display of the infamous AK-47 assault rifle in the hands of several civilian protesters. It was equally deplorable to watch so many rounds of bullets being fired into the air, as the anger of the people who took part in the rallies, particularly in Gondar a few weeks ago, reached boiling point. The availability and ease of access of small arms and light weapons in so many parts of the country is deeply concerning in light of the current tense political atmosphere, where it seems trigger-happy parties are facing-off against each other.
While the peaceful resolution of conflicts is ideal, and notwithstanding the legitimate defence and security needs of people that leads to the right to bear arms, an effective disarmament of people, especially with regards to assault rifles, is crucial in preventing unnecessary fatalities. This will be a key step in ensuring that conflicts don't spiral into a protracted civil war.
Ethiopia is one of the leading East African countries pertaining to the number of small arms and light weapons, both legal and illicit, spread far and wide across its territory in the hands of individuals. Last year alone, the Amhara State – where the highest use of weaponry during demonstrations was witnessed – registered and gave legal permits to several hundred thousand small arms bearing individuals residing in the region.
Ethiopia, just like what is easily perceived in the region, is awash with small arms and light weapons. Globally, close to a billion of such weapons are in circulation and one person dies every minute of every day from gun-related violence. The proliferation of these weapons is particularly widespread in East Africa because of the prevalence of failed and failing states, which are battered either in civil wars, insurgencies, proxy wars or threats from local and global terrorists. Both phenomenon feed each other and perpetuate conflicts and an endless cycle of violence.
The region's long history of bloody civil wars has left a legacy of armed insurrection and the prevalence of small arms and light weapons in the hands of individuals, even after wars have ended. This includes Ethiopia, where people widely retained possession of arms despite a disarmament programme. In addition, the lack of strong border controls and the illicitly fluid mobility of people and materials, coupled with the supply of cheap weapons, have exacerbated the problem.
Small arms and light weapons, which range from pistols and rifles to mortars, rocket-propelled grenades (RPGs) and man-portable air defence systems, have significantly sharpened the lethality of conflicts between individuals or communities. Their flexibility has also enabled them to be transported long distances and concealed from control and regulation enforcement agencies.
Owing to the widespread presence and proliferation of small arms and light weapons, some have rightly dubbed them weapons of mass destruction. Most conflicts and insurgencies' weapon of choice comes from this category of firearms. The unchecked prevalence of these weapons has triggered insurgencies that have led to devastating civil wars and the destabilisation of entire regions.
Moreover, the proliferation of small arms and light weapons encourages terrorism, derails development progress, and undermines security and stability on a local, regional and international scale. Failing to control the presence and movement of these weapons also breeds organised crime and banditry.
Banditry was one of the accusations the government lamented against some groups of people in Gondar, when the latest wave of demonstrations began. The lives that were lost during the standoff that ensued, and in subsequent clashes in some rural areas and cities, was mainly propagated by the use of such weapons.
The Ethiopian government has in the past took some measures to control and regulate small arms and light weapons. It has ceased and destroyed several tens of thousands of weapons before. Its efforts to disarm the population through various means, judging by the recent outburst of violent protests, has not met its objective. The voluntary or forced disarmament of assault weapons should not be underestimated.
Ethiopia is a signatory to different international regional agreements, such as the Nairobi Protocol for the Prevention, Control and Reduction of Small Arms and Light Weapons in the Great Lakes Region and the Horn of Africa, which was introduced in 2004 to compel signatories to destroy confiscated illicit weapons.
The government's initiative to legalise and give permits to large numbers of weapons and attempt to put these arms under some feeble government realm in the form of armed militias, as was the case in the Amhara State last year, has a huge potential to backfire. Militias tend to be poorly trained, inadequately supervised and highly susceptible to be sensationalised into waging attacks on unarmed civilians. There is no need for an individual to carry an assault weapon for personal protection. If they feel strongly about their safety, they can follow legal procedure to receive permit to bear a smaller calibre weapon.
While such legal and political measures can contribute in mitigating the spread and use of small arms and light weapons, it does very little in the way of undermining what seems to becoming an ever stronger culture of violence and impunity developing in many parts of the country, with an abundance of such weapons in the hands of individuals. The Prime Minister, while holding an annual meeting with Ethiopian ambassadors and envoys last week, was right in cautioning against the illicit influx of arms into the country which could lead the nation in to uncharted territory.
There is no debate as to the need to resolve conflicts through non-violent means. It should be the quintessential approach in resolving differences and building a society where the rule of law prevails. The way of the gun only leads to carnage, suffering and destruction. An effective disarmament programme should be implemented to ensure violence does not precipitate into nightmares, such as mass killings, ethnic cleansing and civil war in today's Ethiopia.
---
---
---
---
SHARE :

---