Fidel Castro- A Friend in Need Passes Away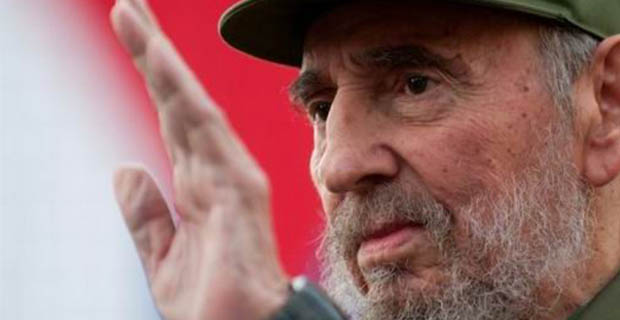 Fidel Castro, the Cuban revolutionary leader, passed away at the age of 90 (1926-2016). The sad news of his nocturnal death was made public by his younger brother and now president, Raul Castro. The former leader died last Friday night after a decade long illness.
The sad news appeared as front page news on newspapers everywhere. His image, as a young revolutionary leader and president, was plastered all over our TV screens. He was a revered and respected leader, especially in countries such as Ethiopia where Cuban soldiers made monumental contributions by fighting for freedom and territorial integrity. Ethiopia was a beneficiary from Cuba's interventions during the Ethiopian – Somali war in the mid 1970's.
Cuba's national flag has been hoisted half-mast and there is a nine day national mourning in the country.
Cuba has a long history with Ethiopia. Their intervention in the world, particularly in Ethiopia, is one that needs to be considered as most welcome. In Ethiopia, during the Somali and Ethiopian conflicts, the Americans changed sides, at the defining moment, particularly when Ethiopia needed acquisition of armaments. This last minute unexpected decision by Jimmy Carter not to provide arms, made Ethiopia vulnerable. It made it easier for General Siad Barre of Somalia to invade Ethiopia, sending his troops along all the boarders and fronts.
Ethiopia had no choice but to fall prey to the Soviets. Cubans being strongly tied to the Socialist ideologies, Castro's intervention, therefore, was a real expression of friendship. Many Cuban soldiers stood beside their Ethiopian brothers and helped. That is why I give this article the title I did.
I had two personal encounters with a number of Cuban soldiers. I vividly remember my initial chance meeting with them at a motel at Gewane, on my way to Assab. It was a hot area and we were forced to sleep with no cover. The resort had its windows of meshed wire to avoid the intolerable heat. On our way back, there was a stopover near a gas station. Our stop also had another intention.
There was a Cuban officer driving the Soviet made "waz" with canvas cover. The reason we had to pause was because the officers had been scared by the Afar ethnic pastoralists. They had fiery issues between them and the Cubans and that was jeopardizing the lives of the Cubans. Onlookers grew in numbers. Some of us were forced to intervene and broker peace.
The herdsmen claimed that a day before, a passing vehicle of the same model and color had run over their calf and killed it. They were now holding the vehicle's driver as the one responsible of the alleged crime committed. Our linguistic ability was found to be a conflict resolution rescue.
The herdsmen would not move away for anything less than 500 Birr, quite a big sum at the time. The Cubans had never killed or run over any bird or pigeon let alone a calf. We could only negotiate on the figure as there seemed to be no intention to compromise. Pigeon or doves were mentioned because there was quite enough wheat grain on the tarmac road, perhaps being dropped from from the Assab Port.
The second memorable time I met Cuban comrades was in Harrar.
On one evening, we had a visit with the "hyena man" for sightseeing. The Cubans were also there to observe. To my great surprise, they did not seem to be attracted more by the risky scene, a hyena responding to its call and advancing forward to pick bones from the man's mouth. Instead, they were asking us who owned them. We simply told them that the "dermesheles" as they were known to the Harrarians were simply wild beasts belonging to no one in particular. The next morning, the two of these animals were found beheaded. That was reported to the Ethiopian Colonel and a good enough cause for deportation from the country.
Apart from those two unfortunate incidents, there is no denying the fact that had it not been for our Cuban counterparts, Ethiopia's territorial boundaries and integrity would have been quite different without their help in defeating Siad Barre's aggression.
Fidel had come to power by throwing down the dictator Fulgencio Batista and his regime. Ernesto Che Guevara, who was a medical student with revolutionary ideologies, had helped his friend Fidel realize his dreams. Cuba, just 90 miles away from America (Florida), had persisted in remaining true to its socialist ideologies. The CIA had tried to assassinate the Cuban leader several times, including by trying to use exploding cigars to kill him.
Apart from that, we also have other reasons to remember Fidel. He paid a couple of visits to Ethiopia, particularly during the 10th anniversary of the Ethiopian Revolution. The former Ethiopian leader, Mengistu Hailemariam, now exiled in Zimbabwe, was Fidel's host.
Ethiopian young elites had read a lot about Che Guevara. Young orphans who had lost their fathers during the war had been offered refugee in Cuba, where they were eventually trained as medical doctors. Cuba by the way is one of the world's model for medical research and for providing affordable health care for its populace. My personal doctor, Dr. Mogus, the owner of Medhanialem Higher Clinic, was my family doctor before my move to Brussels.
Brother Fidel had personal qualities in his drive to advocate an anti-imperialism drive. Once he made a 7 hour speech nonstop. However his death was not universally mourned. Some Cuban-Americans were celebrating his departure by dancing in the streets of Miami. Many were hoping for better days for their home country. They seem to love Cuba as much as Ethiopian Diasporas love their home country. They love their country more than anything else.
---
---
---
---
---
SHARE :

---